Grindelwald is a village in the Bernese Alps and is a famous for hiking in summer and skiing in winter. The sublime natural assets of this village are film-set stuff – the crown-like peak of Wetterhorn, the gleaming tongues of Unterer and Oberer Glaciers, and the chiseled features of the north face of Eiger's will make any visitor swoon, stare, and rush for their camera.
In the late 19th century, hikers and skiers cottoned onto its charm, which makes it one of the oldest resorts in Switzerland. Over the decades it has lost none of its appeals, with verdant pastures and geranium-studded Alpine chalets set against a spectacular backdrop. Here are the must-see attractions in Grindelwald, Switzerland.
Jungfraujoch Trip
The Jungfraujoch train is Europe's highest train station, and it runs between the Valais in Switzerland and the Bernese Highlands. It is located in a magnificent landscape of eternal glaciers and snow. You will also get to enjoy the breathtaking views along the way.
Grosse Scheidegg
The Grosse Scheidegg (Golden Pass Line) is a popular hiking destination, and it features thundering ice falling from glaciers, majestic gushing waterfalls, and the idyllic sound of cowbells accompanying you along the way. Here, you can set the scene for an impressive and fabulous landscape in the Swiss Alp's heart.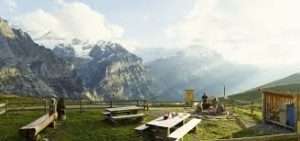 The Eiger
This 13,015-foot mountain is located in the Bernese Alps and it overlooks Lauterbrunnen and Grindelwald. The Eiger is a popular mountain that is mostly climbed by only the most experienced climbers but many tourists come from across the world to get a glimpse of this majestic mountain.
Bachalpsee
Bachalpsee is an easy walk and one of Grindelwald's most popular hikes. The walk is unexpectedly not overcrowded, so it allows you to rest peacefully while enjoying the enchanting scenery and the silence.
Interlaken
If you are in this region, then you have to take a trip to one of Switzerland's most iconic cities – Interlaken. You will find a good deal of adrenalin-loaded activities around this town. With the beautiful scenery of Jungfrau, Mönch, and Eiger, this town is the gateway to the Jungfrau region and Switzerland's hottest adventure destination. If this touristy town is not your thing, then the amazing waterfalls and the mountain's backdrop will leave you speechless.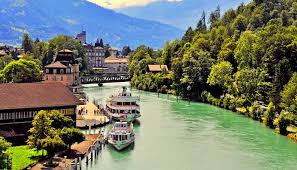 Schynige Platte
Schynige Platte is a plateau with an altitude of about 1967 meter. The ride that gets you here is an attraction in itself. The narrow-gauge cogwheel train offers you spectacular views along the way.