Nestled at the bottom of the Spanish mainland sits Gibraltar a tiny piece of Britain in the Mediterranean. At just two and a half miles long, this British colony is no larger than a small town but with a long and fascinating history and a host of highlights this home from home still has plenty to offer. With Spain just a stone's throw away, Gibraltar is a cocktail of Spanish and British influences. So alongside tiny tapos bars and open-air cafes, you will find fish and chip shops, red post boxes, and cozy British pubs. Here are the top must see attractions in Gibraltar.
The Rock
Gibraltar's iconic landmark is the rock and no trip here is complete without a ride to the top in its famous cable car. The panoramic views are spectacular. Keep an eye out for Gibraltar's oldest inhabitants, the Barbary Apes which roam freely on the rock. Cute and photogenic, they may be Europe's only wild apes and are also expert pickpockets so it's wise to observe them with a little caution.
Inside the rock is a fascinating network of tunnels dug by soldiers during the Great Siege of the 1780s. These help defend Gibraltar against the Spanish and French armies and it allowed the British to position their guns high above the enemy. During the Second World War, the tunnels were extended at the orders of Winston Churchill. Remarkably, nearly 10,000 troops and civilians lived inside the rock during the war. Today, you can take a guided tour around these tunnels to discover more about their intriguing history and find out just why Gibraltar has been fought over so many times.
Michaels Cave
Another of The Rocks hidden attractions is Michael's Cave, a large natural cavern filled with beautiful stalactites and stalagmites. It was once believed that the cave was linked to Africa by a 15-mile passage under the sea.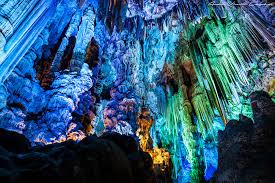 Europa Point
Away from The Rock, Europa point is where you will find the only Trinity lighthouse outside of the UK. It's also one of the best places to view the North African coastline.
Alameda Gardens
If you are looking for a little peace and quiet then consider visiting the Alameda Gardens. It was founded in 1816 to provide a relaxing retreat for Gibraltar's residents. The gardens are home to a wonderful collection of plants and wildlife. In fact Gibraltar is a haven for wildlife and one of the few places in the Mediterranean where you can regularly spot dolphins. So why not take the wonderful opportunity to go dolphin watching in the beautiful blue waters of Gibraltar Bay. This is a natural breeding area for several species of dolphin, so keep your eyes peeled for incredible moments. It is such an enchanting experience in Gibraltar.