Kaohsiung lies in southwestern Taiwan by the waters of Taiwan Strait. The city of Kaohsiung has grown from a trading village to the busiest harbor in Taiwan over the past three centuries. As an industrial and shipping powerhouse, this city has had a gritty past. But now a fresh wind is blowing, creating a creative, modern, and livable city that is still honoring its hardworking beginnings.
The island of Cijin is a short ferry ride from Kaohsiung's downtown. It is a place where the sea meets the city. This district serves not only as the harbor's natural breakwater, but it has been home to Kaohsiung's fishing families for many generations.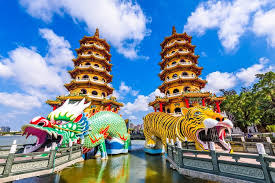 Time slows down here and one of the best ways to experience the island's rhythms is by bicycle or on foot. The Tianhou Temple is dedicated to the protector of fishermen and sailors, the goddess Matzu. Follow the dramatic coastal paths, then climb the fort and lighthouse for a commanding view over the city.
If you want to swap mountain air for sea air, head to the Monkey Mountain. Meet the furry residents of the forest and pause for a tea before climbing upward for a greater view. Running right through the heart of the city is the Love River. It was once a neglected drain and its transformation is a reflection of a city that has awakened to its natural beauty. Explore the lake in a clockwise direction from the Old Wall of Fengshan remains.
At the Tiger and Dragon Pagodas, entering from the dragon's mouth and exiting through the tiger's, it is believed to transform bad luck into good fortune. Pay respect to the God of War and the Goddess of Mercy. The Xuan Wu, a Mysterious Warrior is a towering statue further around the lake which rises from the waters.
Lotus Lake is also surrounded by traditional temples such as the extraordinary Tianfu Palace, and the largest Confucian Temple in Taiwan. This area is filled with food stalls, so ensure you enjoy a snack as the sun sets and the lake starts to light up in all its heavenly glory.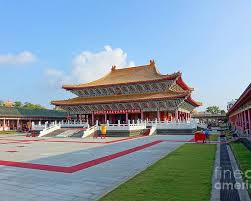 Follow your nose to the Luihe Night Market after a busy day with the gods. It is one of the largest markets in Asia. Drift along with the human tide with the canyon of neon-lit stalls that serves different fruits of the sea. It is in moments like this we realize cities are also like oceans and each has its unique moods and currents. Come to Kaohsiung to dive into Taiwan's best-kept secret by the sea.