Fort Smith is where the new south meets the west. Years ago this was the Wild West. Today, it translates into rides, entertainment attractions, events, shopping, dining, and music that reflect this early frontier heritage.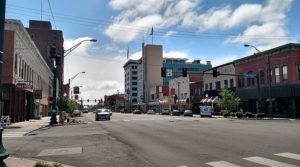 By day, Fort Smith has year-round attractions to fill a week with fascinating sights, tours, and a close-up look at the Old West. Start your tour of this town at Miss Laura's and then head to the National Historic Site, it's only a few blocks away, and it's filled with exhibits that bring to life America's colorful and sometimes rowdy frontier heritage. To be honest, it takes a day to see it all. Across the street is the Fort Smith Museum of History. Besides its imaginative exhibits with a self-guided recorded tour, the museum has an old-time soda fountain right out of the 1920s.
Then one stop away on the streetcar line is the Trolley Museum and car barn. If you are interested in railroad nostalgia, they have a steam locomotive and several antique railroad cars there. Take a stroll through the 22 square blocks Belle Grove historic district. Most days you can tour the majestic old Clayton House, the Fort Smith Art Center, and the Darby Museum – the childhood home of World War two hero, General William O. Darby who started the Army Rangers.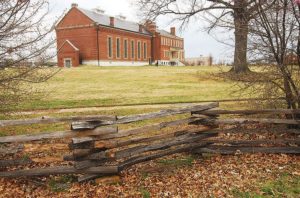 Looking for both nostalgia and breathtaking scenery, take a train trip into the Ozarks aboard the antique coaches of the ANM railroad. It's a spectacular ride through tunnels and over tall trestles. It's one of the longest railroad excursion trips available. Nearby are wineries, living history museums, casinos, and a host of unique live entertainment venues. There is several Civil War battlefield national parks close by and the unbelievable beauty of the nearby Ozark, Boston, Washington, and Kiamichi mountains will take your breath away.
By night, Fort Smith has music to meet every taste, from Blue's to Bach and from Hard Rock to bluegrass. Outdoor music happens almost every night from April to October and for a hearty laugh and some surprisingly good singing, Miss Laura's players will stage a performance of the Medicine Show on hanging day. Be sure to stay for a weekend, the calendar is always filled with festivals, crash shows, special events, and concerts to make your trip to Fort Smith a time to remember.
Getting to Fort Smith is really a pleasure for most people. If you want to drive, the city is within a day's drive of every major city from Amarillo to Nashville and from New Orleans to Omaha. And if you want to fly, the Fort Smith Regional Airport is one of the most beautiful terminals in the nation.
From Miss Laura's, it's only eight blocks to the new convention center and the largest of Portsmouth's downtown hotels. You will find 400 newly redecorated hotel rooms in downtown Fort Smith. Within 12 minutes of the Convention Center, you will find more than 1400 new or newly redecorated hotel rooms. Fort Smith is where the new south meets the Old West and you will love what happens when they both come together.